29
03
2011
Mark Potts, who spent 15 years in the print business as a reporter and editor, is an entrepreneur who is a strategic/business/product consultant to leading business and Internet companies. In class today, he explained how many journalists get locked into telling a story a certain way, and don't venture further and expand their storytelling ways. Potts showed the class numerous sites were they've taken storytelling to new levels with interactive maps and the integration of social media.
Here are some sites and stories that Potts showed us that I thought were exceptional examples of telling a story in the digital age:
Wikipedia: Although frowned on by many English Professors, it is an amazing collection of stories that is great way to get an overview or a story.
The Washington Post featured a story, in both it's print and online version, is about a mother's struggle with her child's medical problems. The story is told through her Facebook posts and status updates, and The Washington Post annotated and edited her posts to tell a story.
Storify: A site that lets you create stories using social media, such a Twitter pics, Facebook updates etc. What Mark Potts described as "the flavor of the month."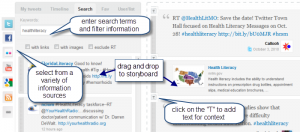 The term "crowd-sourcing:" saying to the audience "hey what do you know, what can you tell us?" Eg. The site WNYC posted a story after the snow storms in New York which featured an interactive map. The map shows the areas that were cleaned and those that weren't cleaned, reaching out to people in those districts/people on the ground, that could tell their story and what is happening with the snow there.
Another term is "hyperlocal:" An example of trying to get news back into the neighborhoods and the communities. There are many websites that are filled with passionate bloggers who want to mimic what local newspapers used to do. Generally, these bloggers are called passionate bloggers because they don't do it for money, but for the respect in their community and their desire to show the community's stories. Eg: Patch.com, Baristanet.com
*Tubeify: Took data from Billboard 100 and compiled it into a interactive site that lets you see which songs were the most popular in what years.
*The New York Times took Netflix rentals and made an interactive map that you can click on area and see what Netflix rentals are most popular.